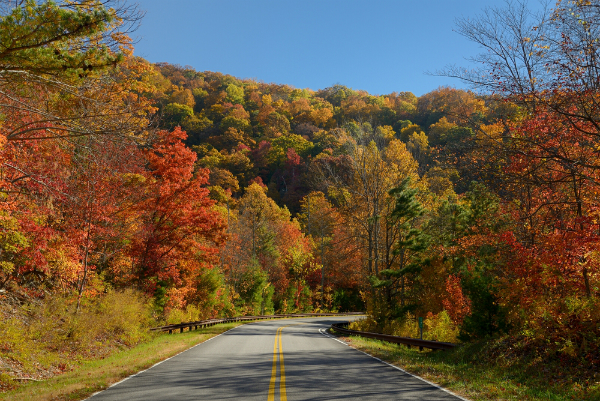 A road trip is a great American pastime. This country has hundreds of thousands of miles of highway sprawled all over it, connecting rural scenes with urban paradises. However, you don't have to go far to experience breathtaking roadside vistas. Some of the best road trips in the country are right here in North Carolina.
Getting There is More Than Half the Fun
For starters, take a look at the Cherohala Skyway. This highway, which spans through the Cherokee National Forest in Tennessee and North Carolina's Nantahala National Forest, was built with dedicated roadtrippers in mind. This highway was built for sightseeing, and it offers drivers an immersive experience with some of the most gorgeous scenery in the country. At 43 miles long, it's perfect for a day trip.
Another nearby expedition is the fabled "Tail of the Dragon," which is a specific segment of U.S. Route 129 built for drivers who love a challenge. This 11 mile strip has 318 curves, winding its way along the North Carolina/Tennessee state line. The Tail of the Dragon is a dream destination for owners of performance vehicles or motorcycles, who can take in the wonderful view of the flora and fauna while enjoying the thrill of maneuvering their vehicle purposefully around the bends and turns in the road.
Don't Leave Without Routine Maintenance
Before you hit either of these storied highways, make sure your car, truck, van, or SUV is primed and ready for the challenge. With routine maintenance from our Winston-Salem auto repair center, your vehicle will be able to handle these roads without breaking a sweat. Let all your worries drift away as the open road unfolds before you. These road trips will help you get a glimpse of something you won't find anywhere else- the exquisite beauty of North Carolina and Tennessee.
A day drive down these highways is an idyllic and budget-friendly way to spend an afternoon. Before you do, visit Frank Myers Auto Maxx and get your vehicle looked at. After all the fastest way to put a damper on an awesome trip is to encounter a mechanical problem that could have been caught beforehand! We look forward to seeing you.