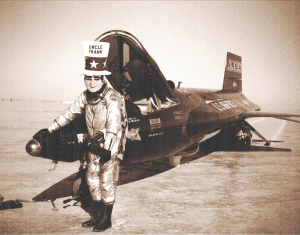 In early 1961, Uncle Frank, always looking for the nicest, newest ride to offer his customers, managed to find a spot in the NASA astronaut program to see what all this space fuss was about. Few historians know that Uncle Frank was actually the first man in orbit, beating the Russians by a few weeks – after he climbed into the space capsule and "accidentally" hit the launch sequence.
The U.S. government hushed the whole thing up and Uncle Frank went back to his dealership. He knew he wouldn't be selling any spacecraft in his lifetime because (a) used rockets weren't very reliable and (b) the sticker price was, shall we say, astronomical.
About Uncle Frank
Uncle Frank has lived many lives and has many stories to share. He currently resides in Winston Salem, NC where he spends his days as the Frank Myers Auto Maxx Mascot.
Be sure to read History of Uncle Frank/Part 4 – Uncle Frank The Singing Star and check back for future editions later.
* Uncle Frank Sez: "All content in The History Of Uncle Frank is a mixture of parody, poor satire, and/or (very) lame humor. It is for entertainment purposes only."