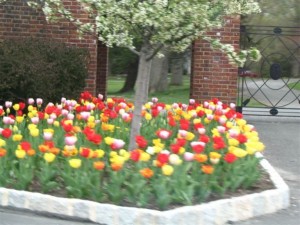 I'm almost giddy with anticipation.
March is here and that means spring is just around the corner. After the winter we've had, I think we can all shout out a collective, "Wahoo" at the thought of spring and everything that comes along with it.
I wholeheartedly agree with Robin Williams who said, "Spring is nature's way of saying, "Let's party!" That sounds like a great idea to me. A big party in the park with blossoming flowers and barefoot kids running around with ice cream all over their faces. True, it may take a little longer for Mother Nature to get her spring on but for now, a guy can dream!
Here's a few tips to get Get Your Spring On!
Make your spring break plans now!
Plan to do something new like luxury camping at El Capitan Canyon in Los Padres National Forest where you camp in style, making both kids and mom happy! Or how about relaxing at Kiawah Island in South Carolina – a great place to golf while the family enjoys swimming, turtle watching, and biking. Feeling a little more adventurous, why not take the Grand Canyon All American Helicopter Tour or if you really want to get away, fly over to Paris? I hear the Paris Chocolate and Pastry Food Tour is a delicious way to spend a week. You'll enjoy French gourmet specialties in the morning and walking tours in the afternoons. If these things are out of the budget, plan a staycation at home. Play tourist in your hometown and do something special, just don't spend the whole week in front of the tube. No matter what you choose to do, make this Spring Break special by being original and intentional with your plans.
Get your spring-cleaning done early.
Why wait? Donate items you don't need to the needy. Hire someone to wash your windows. Clean out your junk, your garage, and any area that has grown dusty over the long winter. Soon the sun will be shining in and shedding light on the state of your homestead. Imagine how much better your spring will be if you already have all of that pesky cleaning done?
Spend time outside being active.
Shake away the winter blues by getting that metabolism going. Start walking with a friend, playing tennis in the afternoon, or biking on a Saturday. Break out those rollerblades, if you dare, or why not make plans to run a marathon? Not the active type? Get outside anyway. Dine el fresco at a restaurant and then take a small stroll after dinner while window shopping on the avenue. Whatever you do, get outside and breathe in some fresh air. It's sure to clear your head and prepare you to have a great spring.
Ok, back to work now, but this weekend, you might just see me outside taking a walk – my perfect pre-spring activity. I don't know about you but I can't wait to GET MY SPRING ON!
About Frank Myers Auto Maxx
The original Frank Myers Store was started more than 83 years ago by Frank Myers, the Great-Grandfather of the current owner Tracy Myers and the Grandfather of the previous owner, Franklin Myers. Tracy has spent the past 15+ years trying to change the landscape of the car business and the bruised reputation of car salespeople all over the country. Tracy was one of the first 100 Certified Master Dealers in the Nation, a NIADA Eagle Award Winner and was the youngest recipient ever to be honored with the highest available distinction in the used car industry…the National Quality Dealer award. Frank Myers Auto Maxx was recently recognized as the #1 Small Business in NC by Business Leader Magazine, one of the Top 28 Independent Automotive Retailers in the United States by Auto Dealer Monthly Magazine, one of the Top 10 Internet Auto Retailers in the Nation & one of the Top 3 dealerships to work for in the country by The Dealer Business Journal. Tracy is also the Co-Creator of the "Everybody Rides" program and author of the best selling book "Car Buying Secrets Exposed: The Dirty Little Secrets of a Used Car Dealer", available at Amazon.com and better bookstores. He is a Christian Business Owner whose goal is to run his business "By the Book". The dealership specializes in helping people find, qualify for and own the vehicle of their dreams with little or no money down…even with less than perfect credit.  For more information on Frank Myers Auto Maxx, please visit their website at: https://www.frankmyersauto.com
CONTACT
Frank Myers Auto Maxx
4200 N. Patterson Avenue
Winston Salem, NC 27105
SALES PHONE: 336-767-3432
SALES WEBSITE: https://www.FrankMyersAuto.com
SERVICE PHONE: 336-831-0656
SERVICE WEBSITE: https://www.frankmyersauto.com/winston-salem-auto-repair.html