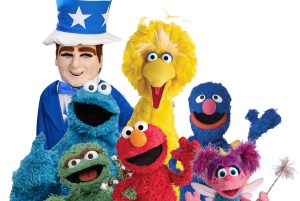 It was the late '60s – and the Public Broadcasting Corporation was ready to launch a revolutionary new children's program, Sesame Street. Jim Henson, the master puppet-maker, had created a whole new set of Muppets for the show – but the producers still weren't satisfied; they felt the characters were either too short (Grover) or too tall (Big Bird. They wanted at least one regular-sized Muppet.
Henson, overworked and out of ideas, was driving through the Winston-Salem area, when he happened to spot a Frank Myers Auto Maxx commercial starring Uncle Frank on his Super 8 Motel TV. He couldn't believe his eyes – with his colorful outfit and happy smile, this guy looked exactly like a big friendly Muppet!
Uncle Frank agreed to the offer, seeing an opportunity to sell to a whole new demographic. Sadly, once again, Uncle Frank only made it as far as the photo shoot – when he quickly realized no Muppet would ever buy a car from him – none of them had any feet to work the gas and the brakes with!
About Uncle Frank
Uncle Frank has lived many lives and has many stories to share. He currently resides in Winston Salem, NC where he spends his days as the Frank Myers Auto Maxx Mascot.
Be sure to read History of Uncle Frank/Part 5 – The Astronaut and check back for future editions later.
* Uncle Frank Sez: "All content in The History Of Uncle Frank is a mixture of parody, poor satire, and/or (very) lame humor. It is for entertainment purposes only."