Winston-Salem, NC Used Car Dealer One Of Only 2 North Carolina Dealers To Be Named To List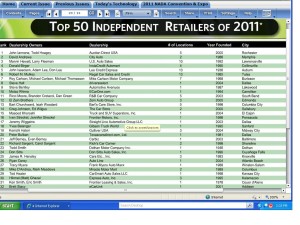 Winston Salem Independent Dealer Frank Myers Auto Maxx has been named as one of the top 50 independent auto retailers across the nation by Auto Dealer Monthly.  Of the 50 awarded, only 2 dealerships were chosen from North Carolina.
This year is the fifth consecutive year that Auto Dealer Monthly has recognized dealerships across the country for their sales and service performance. The top 50 were announced in the July issue of the automotive publication.
Although many of the dealership owners operate more than one location, Tracy Myers, Owner of Frank Myers Auto Maxx, is a single-location dealer.  The used car dealership, auto service facility, auto reconditioning center and auto rental business are located on nearly 5 acres off of Highway 52 in Winston Salem, NC.
Tracy Myers "Grew Up" In Winston Salem Used Car Dealership
Tracy Myers literally grew up in the automotive industry, having worked at Frank Myers Auto for almost 18 years and bought it from his father 6 years ago. He has implemented ground-breaking processes and guest-friendly procedures that reflect his desire to change the perception of the used car industry in which he loves.
Myers has become known as an innovator for his use and integration of internet technology in the world of car shopping. From their famous "Everybody Rides" program to their new 30-Day Satisfaction Promise to social media and internet relationship building, Frank Myers Auto Maxx has dedicated their careers to finding new ways to help people find, qualify for and own  the vehicle of their dreams with little or no money down…even with less than perfect credit.
For a full list of Auto Dealer Monthly's 2010 Top 50 Independent Retailers, including Frank Myers Auto Maxx, you can visit https://www.autodealermonthly.com/.  
ABOUT FRANK MYERS AUTO MAXX
Frank Myers Auto Maxx was recently recognized as the #1 Small Business in NC by Business Leader Magazine, one of the Top 27 Independent Automotive Retailers in the United States by Auto Dealer Monthly Magazine, one of the Top 10 Internet Auto Retailers in the Nation & one of the Top 3 dealerships to work for in the country by The Dealer Business Journal. Tracy is also the author of the #1 best selling book "Uncle Frank Sez", available at Amazon.com and better bookstores. The dealership specializes in helping people find, qualify for and own the vehicle of their dreams with little or no money down…even with less than perfect credit. For more information on Frank Myers Auto Maxx, please visit their website at: https://www.frankmyersauto.com
CONTACT
Frank Myers Auto Maxx
4200 N. Patterson Avenue
Winston Salem, NC 27105
SALES PHONE: 336-767-3432
SALES WEBSITE: https://www.FrankMyersAuto.com
SERVICE PHONE: 336-831-0656
SERVICE WEBSITE: https://www.frankmyersauto.com/winston-salem-auto-repair.html