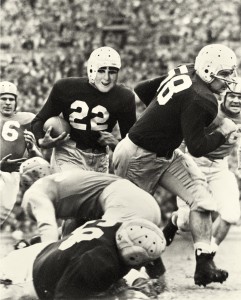 Uncle Frank – The Football Star
The year: 1922. The score: 13-13, with only fifteen seconds to go in the fourth quarter of the NFL's first championship game, between the Chicago Bears and the Canton Bulldogs. Suddenly, from out of nowhere, Uncle Frank streaked across the field like a souped-up Model T, carrying the ball 52 yards across the goal line and scoring the game-winning touchdown for Canton in an unforgettable scoring "drive."
During the post-game celebration after the game, Uncle Frank declared that all of his teammates were responsible for the win – and gifted them all with mint condition 1925 Buick touring cars. Uncle Frank went on to become NFL commissioner and create many innovations in the sport – including the first trade!
About Uncle Frank
Uncle Frank has lived many lives and has many stories to share. He currently resides in Winston Salem, NC where he spends his days as the Frank Myers Auto Maxx Mascot.
Be sure to read History of Uncle Frank/Part 2 – Uncle Frank The Frontiersman and check back for future editions later.
* Uncle Frank Sez: "All content in The History Of Uncle Frank is a mixture of parody, poor satire, and/or (very) lame humor. It is for entertainment purposes only."