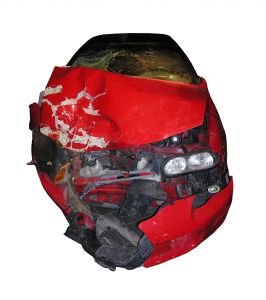 Should North Carolina used car shoppers be on the lookout for vehicles which have been wrecked, repaired and then offered for sale? That is the question being asked by Tracy Myers, owner of Frank Myers Auto Maxx in Winston Salem, NC.
"I was approached by a customer who informed me that the Mustang he purchased from my dealership had been wrecked but fixed before he bought it," stated Myers. "When I asked him where he was getting this shocking information from, he said that a local DMV official had told him. Since this was the first I was hearing of it, I needed to make sure it was a legitimate concern."
As the facts unfolded, it seems that the story had some merit. Here is what was discovered by Myers and the DMV:
1) Frank Myers Auto Maxx purchased 5 vehicles from another dealer with "clean" titles, meaning they were not branded as salvaged.
2) The original selling dealer bought these vehicles out of state at an insurance auction. The titles were still "clean" at this point.
3) All 5 vehicles had Certified vehicle history reports.
4) The 5 vehicles in question were sold to used car buyers by Frank Myers Auto Maxx.
5) After the vehicles were purchased, the titles were sent to NC DMV and all 5 came back "clean".
The mystery here is how these vehicles were allegedly wrecked and repaired without the damage showing up on the vehicles titles or vehicle history reports. "We're still trying to figure some of this out ourselves. I've been in the automotive industry my entire life and have never seen anything like this before", said Myers.
The good news is that Myers insisted on offering his customers a resolution. "While I feel like I was also a victim, offering our customers a resolution was number one on our priority list. We got new cars for 3 of the customers while customer number 4 decided to keep his. We are still in negotiations with customer number 5 and expect to have her happy in the next few days. It IS unfortunate that this happened but, thanks to the DMV, it was discovered early which allowed us to act fast."
What about the chances of this happening again in the future? "There's always a chance", said Myers. "However, we've worked hand in hand with DMV and they've agreed to personally inspect and sign off on any vehicle(s). This is not only a great way to protect the dealership but also our customers."
A reliable source, which chose to remain anonymous, said that "Not taking anything away from their customers but Frank Myers Auto Maxx was certainly a victim here. They could have, and had the right to, fight something in court that wasn't their fault. Luckily, they took the high road and decided to do the right thing by their customers. That was a stand up thing to do and they should be commended."