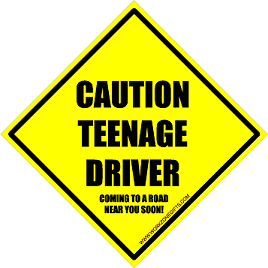 Edmunds.com just released a list of the best cars for teen drivers. Warren Clarke, Automotive Content Editor, wrote that these picks lead the pack in safety, reliability and true cost to own.
Safe-Vehicle Equals Safer Driving Experience
The article said that driving behavior is the most crucial factor affecting your teen driver's safety behind the wheel. Still, it's obvious that a safe vehicle creates a safer driving experience. Independent crash testing is conducted by   the Insurance Institute for Highway Safety (IIHS) and the National Highway Traffic Safety Administration (NHTSA). These tests gauge the ability of a vehicle to withstand various types of collisions. Ratings are then assigned to these vehicles to reflect their crashworthiness. Anne McCartt, senior vice president for research at IIHS, said "Research the best crash test ratings from IIHS and NHTSA."
When looking at IIHS ratings, it is recommended to choose models with a "Good" rating because it is the top score offered. IIHS's annual "Top Safety Picks" list reflects its most recommended choices, and to qualify, models must receive a "Good" rating in all crash tests. Parents should select vehicles with five-star, or mostly five-star, crash test scores when basing vehicles according the NHTSA ratings.
A Good Mix Is Best
The overall safety of your teen's vehicle is directly related to its size. It is recommended that parents avoid the smallest cars. Larger vehicles provided much more collision protection that subcompact cars with the best crash test scores. However, the largest vehicles you should also be avoided. These can be difficult to maneuver and intimidating for new drivers.
The mix of crash protection and maneuverability seems to be best in vehicles. "These findings seem to support what our customers have always perceived," said Tracy Myers, owner of Frank Myers Auto Maxx, a used car dealership in Winston Salem. "We were happy that the facts finally support their theory. It helps us sleep better at night knowing that the vehicles that they have always wanted to own are also safe."
Opinion is divided when it comes to SUV's. Newer models equipped with stability controls has caused the IIHS to revise its policy about recommending SUVs for teen drivers. The current crop of crossover SUVs are less susceptible to rollovers because they have a lower center of gravity than their truck-based predecessors.
On the other hand, AAA and Tracy Myers of Frank Myers Auto Maxx recommend that parents avoid SUVs when shopping for teen drivers. Their belief is that the vehicles are "more prone to roll over in extreme driving conditions." Still, both companies concede that nicer, newer models are safer than older ones, because they offer stability control..
Does A V6 Have Too Much Power?
The general consensus is that V6 engines have more power than a teen driver needs or should have. A better choice would be an inline-4.
Is Safety In Your Budget?
Features such as electronic stability control (ESC), airbags and antilock braking systems (ABS) are essential for teen drivers.
"If it's in a parent's budget, I always recommend investing in a car with front and side airbags, and electronic stability control," says Myers.
These features serve important functions. "Stability control and ABS can help teens keep their cars on the road if they make mistakes," says AAA auto repair manager Michael Calkins. In the event of a collision, airbags protect your teen driver and other passengers.
Is It "Spying" If It's Related To Safety?
Myers also recommends looking into "safe teen driving technology" such as Ford's MyKey and Hyundai's BlueLink. They both offer features that allow parents to monitor teen drivers.
Ford Motor Company's innovative MyKey technology is designed to help parents encourage their teenagers to drive safer and more fuel efficiently, and increase safety-belt use.
Hyundai's BlueLink can be used to help parents track the location of their teen's vehicle, and enables them to set speed alerts that notify them if the car is driven over a certain speed. BlueLink can also be used to uphold curfews. It can be programmed to send parents text or phone message alerts if a teen's vehicle is used outside of a predetermined time interval. This technology is available on Hyundai's teen-friendly 2012 Sonata and 2012 Sonata Hybrid. BlueLink starts for an annual fee of $79.
Myers mentioned that while not equipped with the BlueLink, the 2010-2011 Hyundai Sonata is a great used car and is one of the more popular vehicles for teens at Frank Myers Auto Maxx.
What You Calling Old?
It's often been said that parents generally like to buy newer vehicles since they are considered more safe. However, a vehicle's age is less important than the safety features it offers.
Age has less of an impact on reliability than you might think. "Vehicles were made better 5-years ago than they were even 20-years ago," says Eric Roth, Director of Customer Care at Frank Myers Auto Maxx. "So older vehicles are lasting longer, offer some stellar safety features and great value for parents searching for their teen a vehicle.
Ten Best Cars for Teens
Midsize sedans earn the highest recommendation for parents seeking the safest transportation for their teen drivers.
The 2009-'13 models listed below all offer top crash test scores and low TCO. And all used models appear on CarMD's Vehicle Health Index, which means they rank among the top 10 percent of all vehicles on the road when it comes to dependability.
2009 Honda Accord
2009 Toyota Camry
2010 Chevrolet Malibu
2010 Volkswagen Jetta
2011 Hyundai Sonata
2012 Honda Accord
2012 Hyundai Sonata
2012 Toyota Camry
2012 Volkswagen Jetta
2013 Chevrolet Malibu
Shopping For These Safe Cars In Winston Salem, NC
When shopping for one of these "Teen Safe Vehicles" in Winston Salem, Greensboro, High Point, Kernersville or any other Triad, NC community, any of the following dealerships (and many others) should be glad to assist you:
Modern Toyota
3178 Peters Creek Parkway
Winston-Salem
(336) 785-3100
Parkway Ford
2104 Peters Creek Parkway
Winston-Salem
(336) 724-5921
Frank Myers Auto Maxx
4200 North Patterson Avenue
Winston-Salem
(336) 767-3432
Flow Honda
2600 Peters Creek Parkway
Winston-Salem
(800) 467-5006
Parks Chevrolet
615 North Carolina 66
Kernersville
(866) 982-2029
Kernersville Chrysler Dodge Jeep
950 North Carolina 66
Kernersville
(336) 996-4111
*Information from this blog post from Edmunds.com. No copyright infringement intended.