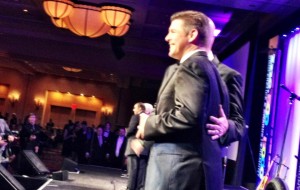 New York, August 29, 2014 –  Frank Myers Auto Maxx, a Winston Salem based used car dealership, has been named to the annual Inc. 500/5000 list. This is an exclusive ranking of the fastest-growing privately held companies in America. Frank Myers Auto Maxx has earned the position of 4,370 on this prestigious list, which is considered a hallmark of entrepreneurial success. Past members of the list include Facebook, Intuit, Zappos, Under Armour, Microsoft, Jamba Juice, Timberland, Levi Strauss, Dell, Yelp, Pandora, Timberland, Dell, Domino's Pizza and LinkedIn. In addition to Frank Myers Auto Maxx, the 2014 list added such powerhouses as sweetFrog Premium Frozen Yogurt, Hubspot, LoneStar and Planet Fitness.
"My Team and I were honored and humbled to have been name to the Inc. 500/5000 list for the third consecutive year," said Frank Myers Auto Maxx Owner and Architect of Ideas, Tracy Myers. "There's no doubt in my mind that we earned this honor because of the hard work and dedication of our Team Members."
For more information about Frank Myers Auto Maxx, please visit https://www.FrankMyersAuto.com
About The Inc. 500/5000 Unveiling
The 2014 Inc. 5000, unveiled online at Inc.com and with the top 500 companies featured in the September issue of Inc. (available on newsstands August 20 to November 30), is the most competitive crop in the list's history. The average company on the list achieved a mind-boggling three-year growth of 516%. The Inc. 5000' s aggregate revenue is $211 billion, generating 505,000 jobs over the past three years. Complete results of the Inc. 5000, including company profiles and an interactive database that can be sorted by industry, region, and other criteria, can be found in the September issue of Inc. magazine.
"For more than 30 years, Inc. has celebrated the fastest growing private companies in America. To be honored this year is a particularly notable achievement. To rank among the 2014 Inc. 500/5000, the companies had to thrive through several of the toughest years this economy has seen in recent memory. Success in such times is eloquent testimony to creativity, resilience, and tenacity," said Inc. President and Editor-In-Chief Eric Schurenberg.
About The Inc. 500/5000 Celebration
The annual Inc. 5000 event honoring all the companies on the list will be held from October 15 through 17, 2014 in Phoenix. Speakers include some of the greatest entrepreneurs of this and past generations, such as Michael Dell, Martha Stewart, host of the CNBC show "The Profit" Marcus Lemonis, Container Store Founder and CEO Kip Tindell, and Chobani Founder and CEO Hamdi Ulukaya.
About Inc. And The Inc. 500/5000
Founded in 1979 and acquired in 2005 by Mansueto Ventures, Inc. is the only major brand dedicated exclusively to owners and managers of growing private companies, with the aim to deliver real solutions for today's innovative company builders. Total monthly audience reach for the brand has grown significantly from 2,000,000 in 2010 to over 6,000,000 today. For more information, visit www.inc.com.