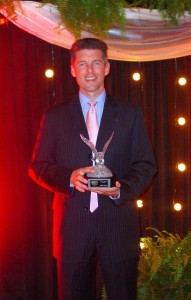 Business Leader is honoring Frank Myers Auto Maxx, the premier Winston Salem used car dealership, as one of the Top 300 Small Businesses in the South for 2011-2012. The awards ceremony is tonight, July 25, 2012, at the Hawthorne Inn and Conference Center in Winston Salem, NC. Earlier this year,  Frank Myers Auto was ranked as one of the Top 15 Car Dealerships in the Nation and has also been ranked the #1 small business in North Carolina.
The Top Small Businesses of the South are being honored for the fifth consecutive year by Business Leader. This is also the fifth consecutive year that Frank Myers Auto has been named to this prestigious list. Team Member Will Hall will be accepting the prestigious recognition on behalf of the dealership.
Frank Myers Auto Maxx and other honorees are dynamic small businesses that have exhibited strong historical financial results, have a positive impact in the local economy and are making a difference not only in business but also in the greater community. Winner are selected based on one and five year revenue growth, business achievements and community involvement.
EXPANDED RECOGNITION THIS YEAR
This year's event, like last years, will have from nine southern markets ranked against one another. The event will feature a countdown of businesses from number 300 down to the top 10. Events will be held in Atlanta, Nashville, Memphis, Miami, Tampa, Jacksonville, Raleigh, Greensboro and Charlotte from June 20th to 23rd to honor the winners.
ABOUT BUSINESS LEADER
Business Leader's mission is to serve business executives and decision makers in the local and regional market. Business Leader serves this audience through a 6 time per year magazine that has relevant and positive news about local business and, through awards dinners and educational business events. Other prominent awards and recognition programs that we organize and host include: Top Entrepreneurs, Top CFO's and Leading Professional Women, to name just a few.
ABOUT FRANK MYERS AUTO MAXX
Frank Myers Auto Maxx was recently recognized as the #1 Small Business in NC by Business Leader Magazine, one of the Top 15 Independent Automotive Retailers in the United States by Auto Dealer Monthly Magazine, one of the Top 10 Internet Auto Retailers in the Nation & one of the Top 3 dealerships to work for in the country by The Dealer Business Journal. Tracy is also the author of three number one books on Amazon.com, including "Uncle Frank Sez". He is a Christian Business Owner whose goal is to run his business "By the Book". The dealership specializes in helping people find, qualify for and own the vehicle of their dreams with little or no money down…even with less than perfect credit. For more information on Frank Myers Auto Maxx, please visit their website at: https://www.frankmyersauto.com/
CONTACT THE PREMIER WINSTON SALEM USED CAR DEALER
Frank Myers Auto Maxx
4200 N. Patterson Avenue
Winston Salem, NC 27105
SALES PHONE: 336-767-3432
SALES WEBSITE: https://www.FrankMyersAuto.com
SERVICE PHONE: 336-831-0656
SERVICE WEBSITE: https://www.frankmyersauto.com/winston-salem-auto-repair.html