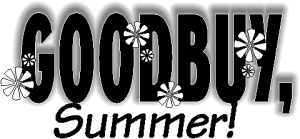 Time marches on and summer is fast slipping away. Goodbye lazy days of summer; hello crazy days of back to school, back to work and back to business. I hope all of you enjoyed a vacation, a siesta or at the very least a sleepy Sunday spent in pajamas this summer. As Sam Keen said so eloquently, "Deep summer is when laziness finds respectability." Now it's time to pack up lazy, pick up the pace and look forward to the start of a new season.
Fall is always a little exciting. There is so much to look forward to . . . cooler temperatures, big breezes, football games, the holiday season, and a return to routine. Fall is cozy and predictable like my favorite old sweater!
Here are a few things you can do to prepare for a smooth transition from relaxed to recharged this August . . .
1. Make a plan—spend a few hours figuring out what you want to accomplish this fall. The busy days ahead will be much more manageable with a plan in place.
2. Schedule appointments—make sure and visit your dentist, doctor, chiropractor, dermatologist, and whoever else you need to visit to stay healthy in the months ahead.
3. Donate—clean out your closets and drawers to make room for organization. Spend a few hours giving away things you don't need to charity. It will help you and help others while keeping your house organized this fall.
4. Health break—take a few days to cleanse your body. Drink water instead of soda. Choose fruit over candy. Skip fried foods and fill your plate with healthy choices like brown rice, lean meat and salad. Healthy eating will give you the physical boost you need to approach fall with muster.
5. Sleep well—go to bed a little bit earlier so that you can wake up well rested in the morning. Keep nighttime distractions to a minimum. Invest in new sheets and a high-quality pillow. Happy nights make for happy mornings.
Follow these tips to keep the demands of fall from sneaking up on you! I'm planning on doing the same, just as soon as I wrap up one of my super important summer to-do list items . . . taking a summer siesta. ZZZZZZZZZ.
There shall be eternal summer in the grateful heart. ~Celia Thaxter
About The Author
Tracy Myers is commonly referred to as The Nations Premier Automotive Solutions Provider. Best-Selling author and legendary speaker Brian Tracy called him "a visionary to be compared to a Walt Disney for a new generation."
He is also a Certified Master Dealer and was the youngest ever recipient of the National Quality Dealer of the Year award by the NIADA, which is the highest obtainable honor in the used car industry. His car dealership, Frank Myers Auto Maxx, was recently recognized as the number one Small Business in NC by Business Leader Magazine, one of the Top 3 dealerships to work for in the country by The Dealer Business Journal and one of the Top 22 Independent Automotive Retailers in the United States by Auto Dealer Monthly Magazine.
Myers has been a guest business correspondent on FOX News, appeared on NBC, ABC and CBS affiliates across the country, been featured in USA Today and written for Fast Company. His inspirational stories and strategies for success are in demand across the country which has given him the opportunity to share the stage with the likes of with Zig Ziglar, James Malinchak, Brian Tracy, Mike Koenig, Bob Burg and Tom Hopkins…just to name a few. His books include the #1 Best-Sellers Uncle Frank 'Sez', YOU Are The Brand, Stupid! and Pushing To The Front (written with the legendary Brian Tracy). They help people become better consumers as well as inspire industry leaders to become "game changers." He was also featured in the Telly Award winning film "Car Men".
As the founder of his own marketing and branding academy, Tracy teaches ambitious business owners, professionals and entrepreneurs how to get noticed, gain instant credibility, make millions and dominate their competition by building their celebrity expert status.