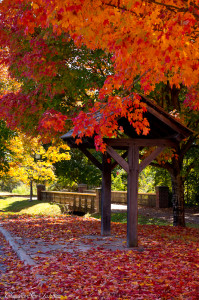 So who's ready for a trip to the beach? How about a glass of ice-cold lemonade? Perhaps another cook out? Not so much, eh? As much as we love the outdoor activities and flavors of summer, when fall swings around they just don't appeal to us as much. Maybe it's the cooler weather. Or maybe people just like what's in season at the grocery store. (I don't know, I just love food!)
Now don't think that just because summer's over that the fun is too—fall happens to be one of my favorite seasons. This time of year usually brings different flavors, many of which are steeped in traditions that go back to the founding of our country. I'm gonna go ahead and give you some of my favorite recipes so you can get in the spirit of September. Pumpkins, Apples, Cranberries, Oh-My!
Pumpkins
Downeast Maine Pumpkin Bread
INGREDIENTS:
1 (15 ounce) can pumpkin puree
4 eggs
1 cup vegetable oil
2/3 cup water
3 cups white sugar
3 1/2 cups all-purpose flour
2 teaspoons baking soda
1 1/2 teaspoons salt
1 teaspoon ground cinnamon
1 teaspoon ground nutmeg
1/2 teaspoon ground cloves
1/4 teaspoon ground ginger
DIRECTIONS:
1. Preheat oven to 350 degrees F (175 degrees C). Grease and flour three 7×3 inch loaf pans.
2. In a large bowl, mix together pumpkin puree, eggs, oil, water and sugar until well blended. In a separate bowl, whisk together the flour, baking soda, salt, cinnamon, nutmeg, cloves and ginger. Stir the dry ingredients into the pumpkin mixture until just blended. Pour into the prepared pans.
3. Bake for about 50 minutes in the preheated oven. Loaves are done when toothpick inserted in center comes out clean.
Double Layer Pumpkin Cheesecake
INGREDIENTS:
2 (8 ounce) packages cream cheese, softened
1/2 cup white sugar
1/2 teaspoon vanilla extract
2 eggs
1 (9 inch) prepared graham cracker crust
1/2 cup pumpkin puree
1/2 teaspoon ground cinnamon
1 pinch ground cloves
1 pinch ground nutmeg
1/2 cup frozen whipped topping, thawed
DIRECTIONS:
1. Preheat oven to 325 degrees F (165 degrees C).
2. In a large bowl, combine cream cheese, sugar and vanilla. Beat until smooth. Blend in eggs one at a time. Remove 1 cup of batter and spread into bottom of crust; set aside.
3. Add pumpkin, cinnamon, cloves and nutmeg to the remaining batter and stir gently until well blended. Carefully spread over the batter in the crust.
4. Bake in preheated oven for 35 to 40 minutes, or until center is almost set. Allow to cool, refrigerate for 3 hours or overnight. Cover with whipped topping before serving.
Apples
Country Apple Dumplings
INGREDIENTS:
2 large Granny Smith apples, peeled and cored
2 (10 ounce) cans refrigerated crescent roll dough
1 cup butter
1 1/2 cups white sugar
1 teaspoon ground cinnamon
1 (12 fluid ounce) can or bottle Mountain Dew ™
DIRECTIONS:
1. Preheat the oven to 350 degrees F (175 degrees C). Grease a 9×13 inch baking dish.
2. Cut each apple into 8 wedges and set aside. Separate the crescent roll dough into triangles. Roll each apple wedge in crescent roll dough starting at the smallest end. Pinch to seal and place in the baking dish.
3. Melt butter in a small saucepan and stir in the sugar and cinnamon. Pour over the apple dumplings. Pour Mountain Dew™ over the dumplings.
4. Bake for 35 to 45 minutes in the preheated oven, or until golden brown.
Apple Pie
INGREDIENTS:
1 recipe pastry for a 9 inch double crust pie
1/2 cup unsalted butter
3 tablespoons all-purpose flour
1/4 cup water
1/2 cup white sugar
1/2 cup packed brown sugar
8 Granny Smith apples – peeled, cored and sliced
DIRECTIONS:
1. Preheat oven to 425 degrees F (220 degrees C). Melt the butter in a saucepan. Stir in flour to form a paste. Add water, white sugar and brown sugar, and bring to a boil. Reduce temperature and let simmer.
2. Place the bottom crust in your pan. Fill with apples, mounded slightly. Cover with a lattice work crust. Gently pour the sugar and butter liquid over the crust. Pour slowly so that it does not run off.
3. Bake 15 minutes in the preheated oven. Reduce the temperature to 350 degrees F (175 degrees C). Continue baking for 35 to 45 minutes, until apples are soft.
Cranberries
Cranberry Waldorf
INGREDIENTS:
1 1/2 cups chopped cranberries
1 cup chopped red apple
1 cup chopped celery
1 cup seedless green grapes, halved
1/3 cup raisins 1/4 cup chopped walnuts
2 tablespoons white sugar
1/4 teaspoon ground cinnamon
1 (8 ounce) container vanilla low-fat yogurt
DIRECTIONS:
1. In a medium bowl, combine cranberries, apple, celery, grapes, raisins, walnuts, sugar, cinnamon, and yogurt. (I chop cranberries in a food processor, and it works great). Toss to coat. Cover, and chill 2 hours. Stir just before serving.
Cranberry Spinach Salad
INGREDIENTS:
1 tablespoon butter
3/4 cup almonds, blanched and slivered
1 pound spinach, rinsed and torn into bite-size pieces
1 cup dried cranberries
2 tablespoons toasted sesame seeds
1 tablespoon poppy seeds
1/2 cup white sugar
2 teaspoons minced onion
1/4 teaspoon paprika
1/4 cup white wine vinegar
1/4 cup cider vinegar
1/2 cup vegetable oil
DIRECTIONS:
1. In a medium saucepan, melt butter over medium heat. Cook and stir almonds in butter until lightly toasted. Remove from heat, and let cool.
2. In a medium bowl, whisk together the sesame seeds, poppy seeds, sugar, onion, paprika, white wine vinegar, cider vinegar, and vegetable oil. Toss with spinach just before serving.
3. In a large bowl, combine the spinach with the toasted almonds and cranberries.
All recipes can be found on allrecipes.com
I hope everyone enjoys the recipes listed here as much as I do! I'm just glad to be able to give the people what they really want: good food, good times and a nicer, newer car when they come down and see my Team and I at Frank Myers Auto Maxx. Until next time, Have a Good Fall, Y'all!