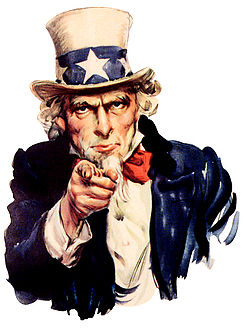 How'd you feel when you started reading this blog post and saw Uncle Sam staring at you – pointing his finger at your face? He's one serious dude, isn't he? Uncle Sam doesn't fool around. Neither do I. My name is Tracy Myers, I'm the owner of Frank Myers Auto Maxx and I mean business. The car business.
So that's why I'm writing to ask you a very important question. Who else wants to swap their old ride for a nicer, newer car and get paid for the pleasure? 
You see, trading something you're bored with for something new and exciting is no longer just for flea markets and swap meets. Baseball cards, stamps, coins and other trinkets are the traditional fare for swapping, but I'm upping the ante and modernizing the swap meet with the most anticipated savings event of 2012 – The Great American Car Swap. 
I've banded together with dealers from across the nation to give Americans this chance to get rid of the old car they hate driving. 
The Great American Car Swap is good for business and good for America. This is an event that may never happen again! I'm pulling out all the stops to make this SWAP one for the record books! I don't think anyone should have to drive a car they aren't excited about and during this event, I don't want to see anyone leave without a nicer, newer car! That's why I'm offering up to $4,297.00 more for the old car you're tired of.
During the Great American Car Swap Winston Salem residents get a chance to lower their car payment, reduce their down payment or get a nicer, newer car with extra upgrades (for the same amount of cash).
Be warned, not all dealers are participating in The Great American Car Swap. I've joined forces with like-minded dealers across the country to make this event happen. We've spent months planning and are proud to stand together to change America, one car and one family at a time. 
We want to do our part to make America a better place to live.  I've read the reports that say Americans are not the happiest people on the planet. Forbes ranked us #10. I'm trying to change that – Americans have always had a love affair with the automobile; my goal is to help more people fall in love (and find happiness) during The Great American Car Swap."
The Great American Credit Score
Many Americans have something in common – a credit score they aren't too proud of. Generally this is due to circumstances beyond their control, bad timing or a string of unfortunate events. Most Americans don't realize how important their credit score really is until they need to get a loan. That's when they realize they need help and often don't know where to turn.
I'm working extra hard to help local people in tough situations like these. Here's my big news . . . This month, I'm introducing my 4G Credit Approval Upgrade. I figured if the cell phone companies can do it, so can I!
My "Everybody Rides 4G Credit Approval Process"
Works to Solve CREDIT Problems . . . 
Up to 4X FASTER
Up to 4X EASIER
offers up to 4X MORE FORGIVNESS
and delivers up to 4X more APPROVAL!
I really want to help people get the car they want and deserve. I'm determined not to allow credit challenges to stand in my way.
The 4G Upgrade works to enhance the already highly effective "Everybody Rides Credit Approval Process." The goal – to get people approved up to 4 times faster, while making the whole approval
process up to 4 times easier, offering up to 4 times more forgiveness so that in the end, up to 4 times more people drive away in a nicer, newer car. 4 times more approval means up to 4 times more happiness!
Take Back Your Happiness Today!
So if you've been dreaming about getting rid of the old clunker you're driving, make today the day your dream comes true! Go to Frank Myers Auto Maxx and swap your old ride for a nicer, newer car during The Great American Car Swap. By this time tomorrow you could be behind the wheel of the nicer, newer car you've always dreamed of and on your way to a better life, or at least to a better commute to work! Time to upgrade your life and lifestyle with a nicer, newer set of wheels.
To be a part of this groundbreaking, life-changing event and get up to $4,297.00 more for your car, which may lower your payment, reduce your down payment or get you behind the wheel of a nicer, newer car with extra upgrades (for the same amount of cash), get down to Frank Myers Auto Maxx right away.
Shop today for the best solutions. To reserve a VIP appointment with a Frank Myers Auto Maxx financing and transportation specialist please call 336-767-4069 right now or visit my dealership today at 4200 North Patterson Avenue in Winston Salem, NC today.
See You at the Swap.
P.S. Hurry in, The Great American Car Swap goes until midnight on May 31st or until we've swapped 188 cars! The early bird gets the worm, or in this case, the better ride!
P.S.S. If you're worried about being slammed by high pressure salespeople when you visit, STOP IT! Our Sales Team doesn't work off of commission and that means there will never be any high-pressure tactics involved.
Uncle Frank Sez: "Yes…this offer is real & there is no need to pinch yourself. Please know that offers may not combine & some negative equity may be refinanced. Financing requires bank approval. WE APOLOGIZE IN ADVANCE BUT ANY PRICE DISCOUNT(S) MAKE ALL "GREAT AMERICAN CAR SWAP" OFFERS NULL AND VOID.