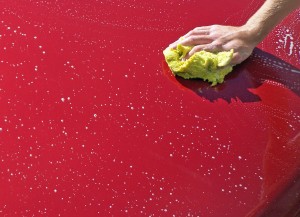 Breathe in. Breathe out. Ahhhhh!!! You smell that? YES, you're right. It's springtime!
A season of renewal, sunshine, fun and, dare I say it—CLEANLINESS! As much fun as it's not, this is the time of the year to get your clean on and take care of some much needed spring cleaning! So set aside an afternoon to transform your stuff from messy to tidy—and please don't forget to include your car.
Dirty cars, trucks, vans and SUV's need love too!
Ask yourself these questions:
1) Are you a little embarrassed when a friend jumps into the passenger seat of your car? 
2) Moms, do you hang your head low in car line?
3) What about on Friday night? Does your date step back in horror as he or she sits down in the passengers side?
4) Do you know what that strange odor is coming from underneath the seats? You know the one that's an odd mixture of month old chicken nuggets and sweaty gym socks.
If you answered yes to any of the questions above, now is the perfect time to do something about the state of your car.
So I'm here to help! Follow my guidelines to get your car back in shape for spring . . . for the sake of your friendships . . . for your sanity in car line . . . and especially for that "hot" date you'd like to go on next weekend (even if its with your spouse). 
Think about how much better you'll feel behind the wheel of your clean ride. Say goodbye to dirt and hello to a fun springtime in your clean and shiny car!
SPRING CAR CLEANING GUIDE:
1. Wash—Wash your vehicle using a mild soap and water. Then dry with a soft, clean chamois (or lint free towel). Don't allow bird poop, bugs, and tree sap to damage your paint. Remove them as soon as you can because the eating away of your paint happens fast, especially with the stronger sun of spring baking down on your paint. Use a soft brush to clean wheels and NEVER use chemicals with an acid base. If your wheels are dirty, clean those first.
2. Polish & Wax—Your vehicle deserves and needs a fresh coat of wax on your car for spring. The wax serves as a protective barrier against the insects, bird droppings and tree sap that's plentiful this time of year. And that you just spent hours cleaning off. In addition to that, wax keeps your car looking nice and shiny.
3. Replace Filters—Have your auto service center of choice (like Frank Myers Auto Maxx…HINT! HINT!) inspect your cabin air filters and engine air filters. Replace all filters if necessary. During spring these filters can become heavy with pollen, which negatively effects how your car runs.
4. Clean Screen—Clear the screen where the hood and windshield meet, directly under the wipers. Also clear out crevices in this area. You have to make sure and keep these areas free of leaves and miscellaneous debris so that they won't absorb water, which causes rust, and which can cause sediment that will clog the evaporator drain. If you don't, you could be facing very expensive auto repairs and no one wants those.
5. Pressure Check—Make sure your tires are set to the proper pressure because as temperatures get higher, air expands, so you may have to let air out of your tires. If you need assistance with this, Frank Myers Auto Maxx can check your tire pressure for free.
6. Interior Detail—Pull out your car mats. Vacuum carpet. Wipe down interior. Throw away garbage. Organize your trunk. If your carpet is stained, they can be cleaned at most professional auto detail centers.
7. Window Clean—Clean all the windows and mirrors (inside and out). Use a solution of ¼ cup household ammonia to 1-quart water. Apply solution with a sponge and dry with newspaper, paper towels or a soft cloth…but newspaper works best.
8. Clean Your Blades—Gently lift the blades, and wipe both sides with a soft cloth or paper towel soaked in a solution of ¼ cup household ammonia to 1-quart cold water. Dry the blades with a cloth and lower them back into place.
9. Shine Your Lights—Apply window cleaner to your headlights. Rub vigorously. If your headlights have become milky, they may need some additional TLC by a professional.
If you've followed steps 1 to 9 to get your car clean then you deserve a break! So take that shiny ride out to dinner. Bring a friend along. You wouldn't want all that work to go unnoticed!!!
Happy clean trails to you! Until we meet again.