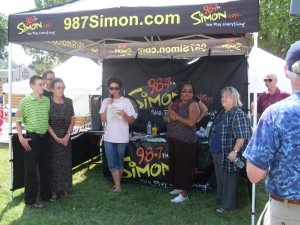 The Greensboro, NC radio station, 98.7 Simon, will giving away free event tickets and tons of other cool stuff next week at Frank Myers Auto Maxx. The Winston Salem used car dealership will be hosting the "Ticket Stop" on Tuesday, November 6th, 2012 from 12pm to 1pm. In addition to free tickets to popular events, Frank Myers Auto Maxx will also be giving away free car washes during the same time period with no purchase necessary. Supplies of the prizes from 98.7 Simon and the car washes from Frank Myers Auto Maxx will be limited so arrive early.
Frank Myers Auto Maxx is located at 4200 North Patterson Avenue in Winston Salem, NC and is the Triad's Premier Used Car Dealership. They specialize in helping people find, qualify for and own the vehicle of their dreams with little to no money down…even with less than perfect credit.
98.7 Simon is a radio station located in Greensboro, NC and they never play the same song twice during the work day. Simon is also a media sponsor of the family-friendly event "WrestleCade 2012".
What Is WrestleCade?
WrestleCade 2012 is a "family friendly wrestling event" featuring some of your favorite wrestling stars from the WWF, WWE, WCW, TNA. ECW, ROH, NWA and AWA…all coming together to compete and to help raise money for the Christmas Toy Drive.
Featured wrestlers at WrestleCade 2012 are: Matt Hardy, Hurricane Shane Helms, "The Franchise" Shane Douglas, Raven, Gunner, Colt Cabana, The Barabarian, Demolition Ax, Rock n Roll Express, CW Anderson, Lodi, The Russian Bear Ivan Kolloff, Boogie Woogie Man Jimmy Valiant, Raging Bull Manny Fernandez, Shelly Martinez (aka Ariel in WWE/ECW & Salinas in TNA), Masked Superstar, Mr #1 George South, The Bravado Brothers, Reid Flair (son of The Nature Boy), Beastmaster Rick Link, Caprice Coleman & Cedric Alexander, Reby Sky, Lei Tapa, Jayme Jameson, Amber O'Neal, a 20-Man Over The Top Rope Battle Royal PLUS many more guests and surprises.
The Benton Convention Center in Winston Salem, NC will be the host of WrestleCade 2012. Doors open at 2pm with a 3pm bell time.
Reserved VIP Tables next to the ring are available (seats 10 people), as well as Gold Circle seating in rows 2-5 PLUS General Admission tickets that start as low as $10 each. Special room rates are also available for out of town visitors.
Other WrestleCade 2012 Sponsors Include: YES! Weekly, Triad CW20, 98.7 Simon, Frank Myers Auto Maxx, Hauser Rental, Sweepstakes University, Pull-A-Part, Superior Insurance, King's Hot Dogs, Brian Hawks, High Velocity Wrestling, Frank Myers Investments, NathanTabor.com, Kevin Powell Motorsports, Johnny Wooten Auto Parts and Top Rope Belts.
All profits will benefit ChristmasToyDrive.com