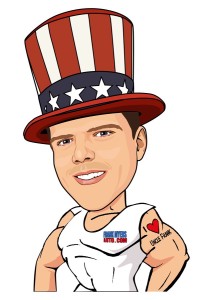 The Sales Pro of the Month for May of 2011 has been announced by Frank Myers Auto Maxx and the winner is Bruno Ricena.
Ricina is a Certified Non-Commissioned Sales Pro at the Winston Salem used car dealership. Hailing originally from New York, Ricina is excited and passionate about helping folks drive home in the car of their dreams. His enthusiasm about his career of choice is evident in everything he does. Bruno likes to build strong customer relationships that last. He immediately puts new customers at ease with his big smile and respectfully puts his customers first by listening and gaining a thorough understanding of their needs. He brings to the dealership a youthful energy that is sure to attract his fair share of new friends and clients.
Head Honcho, Keith Bowman stated "Bruno's confidence is contagious and his youthful spirit is second to none. It is no surprise to me that he made sales pro of the month. If he continues to be as great as he was in May, I would expect him to be the sales pro of the month every month."
Credit Miracle Worker at Frank Myers Auto, Rich Little, stated "Bruno really deserves this honor. He was our top sales professional in May of 2010 and we are all proud of him for celebrating that anniversary by working his way to the top once again. His commitment, professionalism, and loyalty to his profession make it a joy for all of his teammates to be around him on a daily basis."
Bruno has many happy customers. To read what they have to say, please visit
https://www.frankmyersautoreviews.com/salesperson-bruno-ricena
About Frank Myers Auto Maxx
Tracy Myers is the owner of Frank Myers Auto Maxx in Winston-Salem, NC and he is commonly referred to as The Nations Premier Automotive Solutions Provider. Be sure to get your FREE copy of his free report titled "8 Keys To A Better Car Deal".
Contact Your Favorite Winston Salem Used Car Dealership
Frank Myers Auto Maxx
4200 N. Patterson Ave.
Winston-Salem, NC 27105 5
(336) 767-3432
https://www.frankmyersauto.com/contact.html