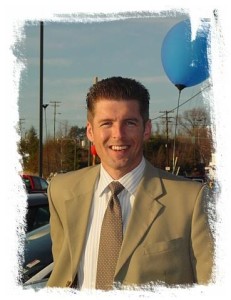 Best-selling author and award-winning North Carolina used car dealer Tracy Myers has recently been acknowledged by America's PremierExperts® as one of the leading experts in his field. America's PremiereExperts® recognizes leading experts, across a wide array of industries, who are willing to provide information and education to consumers as a public service.
Tracy is the current owner of Frank Myers Auto Maxx in Winston-Salem, NC.  He has spent over fifteen years trying to change the landscape of the car business and the bruised reputation of car salespeople all over the country. Tracy was one of the first 100 Certified Master Dealers in the Nation, a NIADA Eagle Award Winner and was the youngest recipient ever to be honored with the highest available distinction in the used car industry… the National Quality Dealer award.
Tracy is also the Co-Creator of the "Everybody Rides" program and author of the bestselling book "Car Buying Secrets Exposed: The Dirty Little Secrets of a Used Car Dealer," available at Amazon.com and better bookstores. He is a Christian Business Owner whose goal is to run his business "By the Book." The dealership specializes in helping people find, qualify for and own the vehicle of their dreams with little or no money down… even with less than perfect credit.
America's PremierExperts® LLC is an organization that honors an exclusive group of celebrity experts who are dedicated to spreading knowledge and awareness in their field of expertise and making significant contributions to their industry and the marketplace as a whole.  America's PremierExperts®, was launched by Nick Nanton, Esq., The Celebrity Lawyer and J.W. Dicks, Esq., the world's leading expert on business growth through personal branding, authors of the best-selling books, "Celebrity Branding You®, "Big Ideas For Your Business" and "Shift Happens."
To learn more about Tracy E. Myers or Frank Myers Auto Maxx, please visit https://www.frankmyersauto.com/history.html and https://www.americaspremierexperts.com/directory/tracy-e– …
For more information about America's PremierExperts® please visit https://www.AmericasPremierExperts.com
About America's PremierExperts® LLC:
America's PremierExperts® is an organization that recognizes business experts for their willingness to promote free expert content in their field of expertise to consumers and journalists alike, while offering business owners, entrepreneurs, professional speakers, authors, professionals and corporate CEOs exclusive, invitation-only, opportunities for further exposure and growth in the marketplace.  JW Dicks, Esq. and Nick Nanton, Esq., attorneys by trade and entrepreneurs by choice, founded America's PremierExperts® to honor entrepreneurs, CEOs, authors, professional speakers and businesspeople who are dedicated to spreading knowledge and awareness in their field of expertise and making significant contributions to their industry and the marketplace as a whole.  For more information about America's PremierExperts® visit https://www.AmericasPremierExperts.com