The Frank Myers Auto Maxx Team has always considered themselves progressive and on the cutting edge of the automotive industry. However, they always find it fun to reflect on where they've been. That's why they were extremely interested to find a stack of old photos featuring customer of the dealership and their cars.
"These photos are amazing," said Tracy Myers, current owner of Frank Myers Auto Maxx. "They definitely tell a story. Most were taken in front of the old, one room store in Dobson and not the Winston-Salem location but it doesn't matter. There is still lots of history in those photos. Just look at the clothes the customers are wearing and the classic cars they're buying."
Myers Family Legacy In The Triad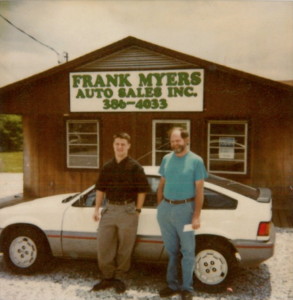 The instant Polaroid photos were found in an old chest which had been tucked away for several years and represent just a small part of the Myers family legacy in the Triad. "I was fortunate to have been born into a family of entrepreneurs," said Tracy. My family originally came to the US from Germany on a boat. All they had when they arrived were the clothes on their back on 2 hammers yet they managed to open a successful construction business. Then there's my Great Grandpa Myers who opened the original Frank Myers store more than 85 years ago. My grandma Myers ran a successful tax preparation business from her home until she passed away and then there is my father. Most call him Uncle Frank but his family calls him Franklin and the friends he grew up with call him Fast Frank. The two of us built this dealership together until I bought it from him in 2006. Even now, he is still my mentor and is always available to assist my Team and I in the day to day operations when needed. We often enjoy reflecting back on where we've been and how we've grown. These newly found photos help us do that."
So what's next? Myers said they are going to continue going through the photos, posting them on their Facebook and Twitter pages and would like to find some of the people in the photographs. "Wouldn't it be cool to recreate some of the photographs? Kind of a then and now?"
Anyone who recognizes anyone who appears in the photo may contact Tracy Myers at #336-831-0646.
About Frank Myers Auto Maxx
Frank Myers Auto Maxx was recently recognized as the #1 Small Business in NC by Business Leader Magazine, one of the Top 15 Independent Automotive Retailers in the United States by Auto Dealer Monthly Magazine, one of the Top 10 Internet Auto Retailers in the Nation, one of the Top 3 dealerships to work for in the country by The Dealer Business Journal and one of the fastest growing small businesses in America by INC magazine. Tracy is also the author of three number one books on Amazon.com, including "Uncle Frank Sez". He is a Christian Business Owner whose goal is to run his business "By the Book". The dealership specializes in helping people find, qualify for and own the vehicle of their dreams with little or no money down…even with less than perfect credit. For more information on Frank Myers Auto Maxx, please visit their website at: https://www.frankmyersauto.com