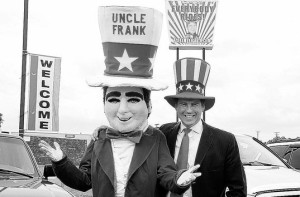 Winston-Salem, NC used car dealership Frank Myers Auto Maxx is known for its flashy commercials, patriotic Uncle Frank mascot and "Everybody Rides" slogan.
This Wednesday, a  film crew will be at the used car dealership on Patterson Avenue. However, they won't be filming another quirky commercial. Instead, they will be making a documentary.
"We were hushed for almost six months and couldn't say anything about it," said Tracy Myers, the dealership's owner.
Frank Myers Auto Maxx Film Part Of Series
The documentary will be part of a series of films that will focus on businesses and people. It will be produced by Loud Entertainment, an entertainment company based in Orlando and Los Angeles.
The film will look at the history of the dealership and Tracy Myer's "uphill battle" to grow Frank Myers Auto Maxx, said Nick Nanton, a co-owner of Loud Entertainment and a producer and director.
Nanton recently received two Emmy nominations for the short film "Jacob's Turn," the story of a boy with Down syndrome and his love of baseball.
"I've worked with over 500 businesses around the world and I look for diamonds in the rough," Nanton said. "Tracy is certainly one of them."
History

Of Frank Myers Auto Maxx
Frank Myers, Tracy Myers' great-grandfather, opened the original business as a general store 83 years ago. Later, he began selling cars.
Tracy Myers bought the dealership from his father, Franklin "Frank" Myers in 2005. Frank Myers has several other businesses, including Credit Quick of Winston-Salem, Big Daddy's Auto Rental and Big Daddy's Storage.
The dealership is known for its quirky TV commercials, often featuring Uncle Frank, an Uncle Sam figure who likes to dance.
Tracy Myers hears "Everybody Rides" everywhere he goes.
"At the bank, a restaurant, Wal-Mart, Target and the mall, somebody's yelling at me, 'Everybody Rides!' " he said. "It's just become part of the Myers' lifestyle."
In 2010, the dealership was honored as the No. 1 small business in North Carolina by Business Leader magazine. It was also chosen last year as the only independent dealer in North Carolina to receive the Nations Premier Independent Dealer Award.
A major part of Loud Entertainment's movie will be shot during the Myers Family Community Appreciation Picnic, which is open to the public, from 3 p.m. to 7 p.m. on Wednesday June 22, 2011.
Members of the Myers family will be interviewed at various venues in the city throughout the week.
"It will be a nice tribute to the city of Winston-Salem as well as our business," Tracy Myers said.
A release date for the film has not been set. But when it is released, Myers plans to have a red-carpet premier of the movie.
– Parts of the above story appeared in the Winston-Salem Journal on  June 18, 2011. It was written by Fran Daniel and the photo was taken by Jennifer Rotenizer.